About 740i Reviews for 2015 from BMW of Lincoln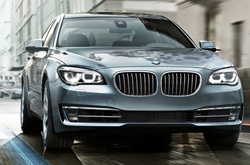 The high-tech BMW 7 Series makes its way back to the market this year with a few modifications that enhance the full-size luxury sedan. These additions include a brand-new model, fresh engine option and a couple new features on the 750 models. Complete with fantastic, comfortable seating, quick acceleration and a host of innovative technologies, each 2015 BMW 7 Series model is an outstanding vehicle. Check out our comprehensive 2015 BMW 7 Series review below to acquire more information about the latest edition and all of its wonderful features. You can also find details about its top-notch powertrains and their abilities.
The 2015 BMW 7 Series in Lincoln is available with four engine options this year. Both 740i and 740Li models come equipped with a turbocharged 3.0L six-cylinder that exerts 315 horsepower and 330 lb.-ft. of torque, while the brand-new 740Ld xDrive model sports a turbocharged 3.0L diesel engine, delivering 255 horsepower and 413 lb.-ft. of torque. The 750 model is equipped with a turbocharged 4.4L V-8 that generates 445 horsepower and 480 lb.-ft. of torque, which support its capabilities. Fitted with a 6.0L V-12, the 760Li produces 535 horsepower and 550 lb.-ft. of torque. It features the most power out of all the models and is the fastest of the bunch.
When it comes to new components, the 2015 BMW 7 Series on Lincoln only comes with a few additions. A new 740Ld xDrive model has joined the roster and each 750 model now gains automatic high beams, LED headlights and a leather-trimmed dashboard. Additionally, the 7 Series features 18-inch wheels, xenon headlights, LED fog lamps, automatic wipers and a rearview camera. There are also a wide variety of package options that buyers can take advantage of to give their 7 Series a unique look.
To discover more details about the new model and its features, continue browsing our 2015 BMW 7 Series review.