BMW AC Repair in Lincoln, NE
The AC of a BMW is one of the many parts that allow for a smooth, comfortable cabin ride. It removes the uncomfortable warm air and replaces it with refreshing cool air. Sometimes, though, as the AC unit gets older, its parts begin to develop leaks, coolant runs low, or entire working parts stop working, and that makes for a very bad time. Our certified technicians are fully capable and happy to work on your AC unit for you and restore your system to its original efficiency. Sometimes the AC completely goes out of a vehicle and sometimes it just stops working as well. Our certified techs can determine if you need a brand new AC, just need a little bit of coolant, or find out which replacement parts you might need to restore your AC.
Why is my AC blowing warm air?
Not every AC just stops working altogether. The majority might continue blowing air out, but unfortunately it's WARM air. Nothing is quite as unpleasant as a blast of warm air from your AC unit. A common solution to this might be new coolant. Sometimes your system is simply low on coolant and it will work just fine after you've replaced the coolant. Other common things that might cause your AC to blow warm air include a blown fuse, leaks inside the AC, or a clogged expansion valve.
Why is my AC barely blowing out air?

It's a smoldering hot summer day and you crank up your BMW's AC only to find out that it has almost no air flow at all. Almost NOTHING is happening. Other than being one of the most frustrating problems in all of mankind, this issue might come from a buildup near the evaporator core (could be bacteria or mold), a broken ventilation fan, or hose that's come loose. Only a qualified certified technician at our dealership can definitively find out the culprit to your problem, but those are the most common issues.
Why does my AC smell terrible?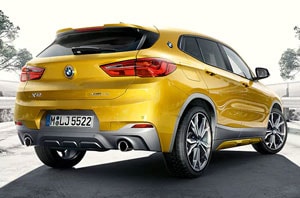 While some AC units have SOME kind of odor, it's not usually an unpleasant one. Flash forward to when your AC has a true problem and you might dread even turning your AC on for fear of the smell that's going to come out. While this is a common problem, there's no one answer for what might be going on. It could be everything from a buildup of bacteria causing the smell to a simple dirty air cabin filter. Both of these problems can be handled by our certified techs. They can identify the problem quickly and make sure that you go home with an AC that isn't giving off unpleasant odors.
AC problems can be among the most frustrating for any car owner. Sometimes there's a simple explanation but sometimes you need entirely new parts or a new AC, and that can be quite expensive, so it's vital that you don't simply trust yourself to fix the issue. Instead, stop by our dealership today to have our certified technicians fully inspect your AC and ensure that everything is working properly. It's vital that you follow the regular maintenance schedule on your AC unit. At the first sign of any problems, have your AC unit inspected here with us. It can save you time and money down the road before the problems grow out of hand. Call us today to schedule a full inspection!