BMW of Lincoln Shows Off the New BMW M2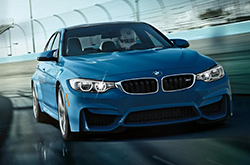 The 2016 BMW M-Series is an expansive lineup that includes many different models, each of which flaunts its own one-of-a-kind character. Superb luxury features and performance are something they all have in common, however. Continue reading BMW of Lincoln's 2016 BMW M-Series review for details about this world-class group of vehicles. Included under the M umbrella are the M3, M4, M5, M6, M6 Gran Coupe, X5 M and X6 M; there's also an all-new M2 model that's been added to the lineup, as well.
If you select a 2016 BMW M-Series in Lincoln and choose the M3, you'll encounter high-action performance and plush luxury on a daily basis. The sporty sedan comes standard with leather seats, heated power-folding outside mirrors, dual-zone automatic climate control, an iDrive infotainment system, navigation, Bluetooth, and keyless entry and ignition. The sedan also comes with performance features like a sport exhaust and suspension, as well as a sport body kit and an eye-catching carbon-fiber trim in the cabin.
Other 2016 M-Series models are similarly equipped, but different body styles and engines add distinct character to each. The four-door M3 sedan and two-door M4 coupe and convertible come with a 425-horsepower inline six-cylinder engine, while the four-door M5 sedan gets a 560-horsepower turbocharged V8. The two-door M6 coupe and convertible also get a turbo V8, but it outputs 552 horsepower, which is called "awe-inspiring" in one of Edmunds.com's 2016 BMW M-Series reviews. The 2016 X5 M and X6 M get V8s too, with a rating of 567 horsepower. Last but not least, the M6 Gran Coupe, a midsize sedan with fastback-like styling, offers a choice of a 315-horsepower V6 or a 445-horsepower V8.
The brand-new 2016 BMW M2 offers a twin-turbo six-cylinder with 365 hp and 343 lb-ft of torque. It also gets standard rear-wheel drive and performance features like an aluminum M Sport suspension. Two gearboxes are available on the new M2: a six-speed manual or seven-speed M dual-clutch.
Take your pick of any model and you certainly won't be disappointed. Visit us to test drive a 2016 BMW M-Series in Lincoln, Nebraska, to try out a variety of models in the lineup and find out which one is right for your needs. Also ask about our current M-Series lease and finance incentives at your visit.