Quality BMW i3 Research From BMW of Lincoln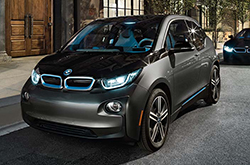 BMW's i-series offers two unique vehicle options, the i3 and i8, which are redefining luxury and efficiency in the auto market. Select a 2016 BMW i3 in Lincoln and you'll have a choice of 100-percent electric and Range Extender (REX) models, while the i8 is offered as a plug-in hybrid.
Along with incredible range, green car shoppers in Nebraska can also expect to be impressed by performance and features. According to Edmunds.com's 2016 BMW i3 review, the larger i model (four-door hatchback) not only offers a snappy driving feel, but also quick acceleration. Efficiency is excellent as well, thanks to the 125-kilowatt electric motor and 22-kWh lithium-ion battery; the EPA estimates that BMW i3 owners will get 124 mpge combined, while the i3 REX achieves 117 mpge. Features on the BMW i3 include a 6.5-inch iDrive interface, Bluetooth Hands-Free Phone and Audio Streaming, navigation, automatic climate control, heated front seats and automatic windshield wipers, just to name a few. Shoppers will find i3 models in Mega World, Giga World and Tera World trim levels.
The 2016 BMW i8 in Lincoln comes in a two-door coupe body with 2+2 seating. While the plug-in uses electric power along with gas power, you'll find that it doesn't sacrifice any muscle in doing so. Its hybrid powertrain produces 357 horsepower and 420 pound-feet of torque. This particular model comes in a single trim level that's very well-equipped, showing off amenities such as a navigation system, iDrive infotainment, satellite and HD radio, BMW Apps smartphone integration, parking sensors, a head-up display, dual-zone automatic climate control, heated front seats, keyless entry and ignition, parking sensors and much more. On top of superior features and lots of power, The Truth About Cars' 2016 BMW i8 review calls the coupe's appearance "sexy and daring." In fact, the writer uses the term sexy quite a few times to describe the i8, but we digress.
To conclude, if you're searching for a sharp looking, high-range green car, come test drive the 2016 BMW i3 or i8 at our dealership in Lincoln. You may find just what you're looking for!