Check Out the New 2015 M3 From BMW of Lincoln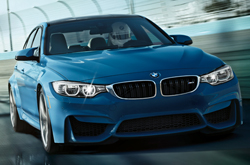 BMW's M Series collection is made up of some of the top luxury cars on the market today. Back for 2015, the M roster is made up of the M3, M5, M6 and the all-new M4. Out of all the models a part of the 2015 BMW M Series lineup, the M6 is the only one that is virtually unchanged this year. The M3 boasts a few mechanical modifications, while the M5 sports various technology and package updates that take sedan's appeal up a notch. Read our 2015 BMW Series review to learn more about these changes and acquire info about the new BMW M4.
For the new model year, the 2015 BMW M Series in Lincoln features a variety of fresh, upgraded components. The M3 is now being offered with a turbocharged six-cylinder engine and an aluminum-intensive body/chassis, while the M5 gains satellite radio and keyless entry/ignition. Additionally, there will be special edition models given out to celebrate the M5's 30th anniversary. Only 30 will roll off the assembly line, which will make them a rare find. Coming into 2015, the M4 debuts on the M Series lineup - a renamed 3 Series high-performance two-door coupe and convertible. It maintains a slick style and grace, but also has the capability to blow away its competition on the track. With its fantastic ride quality, excellent handling and strong engine, the M4 is a first-class performance car.
To support its capabilities, the 2015 BMW M Series in Lincoln is available with several engines. Both the M3 and M4 are equipped with a 3.0L six-cylinder, delivering 425 horsepower and 406 lb.-ft. of torque, while the M5 sports a 4.4L V-8, generating 560 horsepower and 500 lb.-ft. of torque. Those that choose to purchase the 30th Anniversary edition model will be treated to 600 horsepower and 516 lb.-ft. of torque. The BMW M6 also comes with the 4.4L V-8, and offers the same amount of power and torque. It's also available with either a six-speed manual or seven-speed automated manual across the lineup.
If you'd like to learn more about the M Series, keep reading our 2015 BMW M Series review for additional details.