2015 428i Research and Review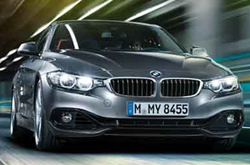 The BMW 4 Series returns for its second year on the market, offering many of the same amenities available on last year's edition. High-performance engines, roomy seating configurations and incredible handling continue to be some of the luxury sports car's best features. Coming into the new model year, the 2015 BMW 4 Series does boast a few small changes that will appeal to buyers and deliver a top-notch driving experience. Read our 2015 BMW 4 Series review to learn about each one and other first-class components.
The newest BMW 4 Series is available in two trim levels: 428i and 435i. Each version comes with a different engine that is both efficient and powerful, producing incredible performance. The 428i is equipped with a turbocharged 2.0L four-cylinder that delivers 241 horsepower and 258 lb.-ft. of torque. The 435i is outfitted with a 3.0L six-cylinder engine, generating 300 horsepower and 300 lb.-ft. of torque. Both models also come standard with an eight-speed automatic transmission; however, rear-drive coupes and the all-wheel-drive 435i coupe can be fitted with a manual transmission instead. Each 2015 BMW 4 Series in Lincoln also produces excellent fuel economy ratings that rival other models in their class.
Due to its arrival on the market just last year, the BMW 4 Series receives very minimal changes for 2015. The only real modifications made to the car are standard Bluetooth on all models and heated front seats as a stand-alone option. Additionally, the 2015 BMW 4 Series in Lincoln comes with keyless ignition/entry, satellite radio, a nine-speaker audio system, eight-way power front seats and dual-zone automatic climate control. The Lighting Package also adds LED headlights and automatic high-beam control, providing greater visibility at night.
For more information about the new 4 Series and its offerings, keep reading our 2015 BMW 4 Series review.