Learn More About the New 320i From BMW of Lincoln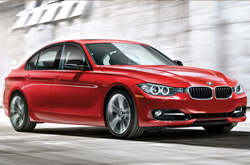 Boasting incredible handling and a smooth ride, the 2015 BMW 3 Series is one of the German automaker's most popular models. Its sporty driving dynamics, roomy interior and lavish features make it a must-have car for buyers looking to purchase their first vehicle in the luxury car segment. Fresh on the scene for 2015, the 3 Series arrives with very minor changes across the model lineup. New stand-alone options have been added and a new standard is available throughout the roster, taking the 3 Series' appeal up a notch. For more details about the new model and its benefits, check out our 2015 BMW 3 Series review.
The sporty 2015 BMW 3 Series in Lincoln is available with five different engine options, depending on which model you choose. The 320i trim comes equipped with a 2.0L four-cylinder, outputting 180 horsepower and 200 lb.-ft. of torque, while the 328i, outfitted with a more powerful version of the four-cylinder, generates 240 horsepower and 255 lb.-ft. of torque. The 328d model sports a turbocharged 2.0L diesel four-cylinder that produces 180 horsepower and 280 lb.-ft. of torque, while delivering first-class fuel economy. Packed with a turbocharged 3.0L six-cylinder engine, the 335i model exerts 300 horsepower and 300 lb.-ft. of torque. An ActiveHybrid 3 system is also available, which produces 335 horsepower and 330 lb.-ft. of torque, delivering incredible fuel efficiency.
Aside from offering high-performance powertrains, the 2015 BMW 3 Series in Lincoln comes with new stand-alone options and standards for buyers to take advantage of. Navigation, heated seats and a sunroof are all now available on their own, while Bluetooth connectivity is standard on every model. Additionally, the 3 Series is offered with several packages that boost its attraction and draw in buyers.
Want to learn more about the new 3 Series? Continue browsing our 2015 BMW 3 Series below for extra info.