BMW M Series Review for 2014 Model Year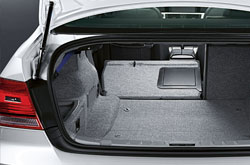 Like most BMW lineups, the M Series offers a broad selection of models, body styles and trim options. Performance takes center stage no matter the M you select, and for 2014 this statement is truer than ever. Driving enthusiasts will be excited to try out the M3 sedan's all-new twin-turbo 3.0L inline-6 engine. No, it's not the V-8 from last year, but it can pump out 424 horses, 369 pound-feet of torque and sprints from zero to 60 mph in around 4 seconds. Visit us to test drive the 2014 BMW M3 in Lincoln, NE and put its new engine to work for yourself. While you're at it, you'll also want to check out the all-new 2014 M4 coupe, which debuts this year and comes standard with the same inline-6.
The M Series is not only aimed at performance lovers, but also at luxury buyers who desire a high-revving premium car that offers daily commuting practicality. "Whether you're driving on the track or to the office or day care, the M3 handles it all with purpose and style," according to Edmunds' 2013 BMW M Series review. With a comfortable interior and fun, useful features like BMW Assist telematics, Bluetooth hands-free phone, sport seats with lumbar support, HD radio and an iPod/USB interface, the same is true this year. Learn more about trim levels, standard amenities and options at our dealership, where the 2014 BMW M Series is on sale in Lincoln, Nebraska.
Inventory listings, information about current financial incentives, a confidential online credit application and other handy shopping tools are featured on our website. Take a look around and then be sure to contact us if you would like to schedule an appointment for a test drive.
Our 2014 BMW M Series review continues below. Scroll down to see additional vehicle specs and video of the car.