The 2013 BMW Z4 sDrive30i from BMW of Lincoln is the apotheosis of dedicated automotive craftsmanship built to fit the needs of NE BMW drivers. BMW of Lincoln is thrilled to present the 2-door 2013 BMW Z4 sDrive30i coupe. As your Lincoln BMW dealer, we hope you find our 2013 BMW Z4 sDrive30i reviews and research materials beneficial in finding the accessories, specifications and information you've been waiting for. View BMW of Lincoln's new lineup of 2012 BMW Z4 sDrive30i coupes.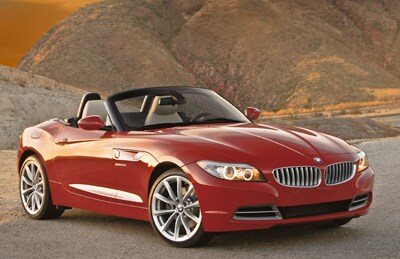 BMW of Lincoln presents the 2012 BMW Z4 sDrive30i coupe
Consumers find that when they compare the 2012 BMW Z4 sDrive30i to other makes like the Audi TT, Porsche Boxster and Mercedes Benz SLK, the BMW Z4 sDrive30i sets itself apart as the most fun to drive. Check over our Quick List stats below to see why!
The 2013 BMW Z4 sDrive30i has an starting MSRP of $47,450
The 2013 BMW Z4 sDrive30i gets 18 city / 28 highway MPG
The 2013 BMW Z4 sDrive30i goes from 0-60 MPH in 4.7 seconds
The 2013 BMW Z4 sDrive30i features 42.2 inches of legroom up front and N/A inches in back
The 2013 BMW Z4 sDrive30i features 39.1 inches of headroom in front and N/A inches in back
The 2013 BMW Z4 sDrive30i is 166.9 inches long, 70.5 inches wide and is 50.8 inches tall
The 2013 BMW Z4 sDrive30i weighs 3549 pounds and has a turning radius of 17.5 feet
We know you'll be fond of the BMW Z4 sDrive30i - visit BMW of Lincoln in Lincoln today!
From the very second it laid its tires on American streets, it was clear that the BMW Z4 was bred for fame. With an exquisite aerodynamic design and racecar-inspired powertrains, the new 2013 BMW Z4 roadster is a force to be reckoned with. It has claimed a space in the spotlight, appearing in numerous television shows and movies, and has become something of a pop star in the convertible car segment. Many BMW Z4 reviews place the racing champ above vehicles like the Audi TT, Porsche Boxster and Mercedes Benz SLK when it comes to luxury, comfort and overall value. The 2013 Z4 was made for Lincoln car shoppers who desire the sporty, open-air fun of a drop-top convertible and the exhilaration of driving a racetrack-ready roadster. There are few cars that offer the same great combination of luxury and performance. Visit BMW of Lincoln to test drive the 2013 Z4 and learn about our latest BMW financing options and incentives.
Lincoln BMW shoppers can find the new 2013 Z4 convertible in three trim levels: the Z4 sDrive28i, sDrive35i and sDrive35is. The 28i is a new entry-level model which replaces the sDrive30i for 2013. Visit BMW of Lincoln to test drive the Z4 in gorgeous colors like Atacama Yellow, Black Sapphire Metallic, Orion Silver Trim and Melbourne Red Metallic.
Each trim's numeric designation corresponds with its engine type, which means Lincoln BMW shoppers can select from three distinct and muscular powertrain setups. The 2012 BMW Z4 sDrive28i gets a new turbocharged 2.0-liter inline-4 engine that generates 240 horsepower and 260 pound-feet of torque. Power is sent to the rear wheels by way of a standard six-speed manual transmission. The 2012 Z4 BMW sDrive35i is equipped with a twin-turbocharged 3.0-liter inline-6 that cranks out 300 horsepower and 300 pound-feet of torque. It also comes standard with a six-speed manual transmission and has an available dual-clutch seven-speed transmission option. BMW of Lincoln's Z4 sDrive35is accelerates with confidence thanks to a vigorous twin-turbo 3.0-liter inline-6 good for 335 horsepower and 332 pound-feet of torque. The 35is comes standard with a seven-speed dual-clutch transmission.
Lincoln BMW fans won't just be impressed with the Z4 roadster's explosive power and razor-sharp handling. This popular convertible also flaunts a sophisticated interior that features an inspired design and a plethora of cutting-edge technologies and amenities. The new sDrive28i includes HD radio, automatic wipers, automatic adaptive xenon headlights, six-way manually adjustable seats, an auxiliary audio jack and adjustable sport driving settings. Stepping up to the Z4 sDrive35i will get Lincoln car shoppers great extras like aluminum interior trim, automatic climate control and sun-reflective leather upholstery that keeps surfaces cool on sunny days. The top-tier 2012 BMW Z4 sDrive35is adds a thick M steering wheel, an aerodynamic body kit and adaptive suspension dampers, among other features. Visit BMW of Lincoln for a complete list of each trim's standard features.
Lincoln BMW Z4 buyers can select from several package options including the Premium, Premium Sound and Cold Weather packages. Music lovers will enjoy the BMW Z4 Premium Sound Package which comes with satellite radio, an iPod/USB adapter and a 14-speaker sound system. For those who desire an extra dose of luxury, the Premium Package features high-end amenities like BMW Assist telematics, Bluetooth, power-adjustable seats, auto-dimming mirrors and more. And to ensure that you stay safe and warm during the winter, the Cold Weather Package features amenities such as retractable headlight washers and heated seats. Along with these terrific add-ons, there are also many stand-alone options that you can choose from. Learn more about these and all of the Z4's available features at BMW of Lincoln today!
Cruising in a BMW Z4 sDrive30i from BMW of Lincoln makes NE driving commodious, safe and enjoyable - all at the same time! Here are the reasons why:
BMW of Lincoln has a vast stock of 2012 BMW Z4 sDrive30i coupes with standard BMW safety features like anti-lock brakes, traction control, driver airbags, passenger airbags, side airbags and more, making the 2012 Z4 sDrive30i an NHTSA and IIHS favorite. In addition to these safety features, the 2012 BMW Z4 sDrive30i can easily seat up to 2 passengers. Trunk space with BMW is never a worry; the Z4 sDrive30i can hold up to 6.4 cubic feet of your belongings, ensuring that your next drive is hassle-free. To top it all off, the 2012 BMW Z4 sDrive30i includes an outstanding list of comfort and convenience highlights like powered windows, mirrors, doors and locks, climate control, AC and optional hands-free phone and navigation systems. Take a test drive at BMW of Lincoln today and experience the BMW Z4 sDrive30i for yourself.
The BMW manufacturer's warranty covers the Z4 sDrive30i for manufacturing defects and has a 4 Years / 50,000 miles BMW warranty. BMW has worked for years to minimize its environmental impact; as a result, the Z4 sDrive30i's carbon footprint is minimal. Not surprisingly, with all of the Z4 sDrive30i's advantages, this sensational BMW coupe retains a high percentage of its value at 3 years and 36,000 miles, which makes the BMW Z4 sDrive30i a great used buy! When seeking a safe, stylish and economical coupe, Lincoln BMW drivers should head to BMW of Lincoln, located at in Lincoln, NE
BMW Z4 sDrive30i service information for Lincoln
BMW Z4 sDrive30i lessees and owners in Lincoln have discovered that BMW of Lincoln at in Lincoln is the very best choice for Z4 sDrive30i warranty work, regular maintenance, inspections and mechanical repairs. At BMW of Lincoln, Certified BMW Technicians trained in the very latest corrective and diagnostic techniques work for one thing - your approval. Whether it's time for your BMW to have an oil change, serpentine belt replacement, or simply undergo Z4 sDrive30i Scheduled Maintenance, BMW of Lincoln is your first choice. Our Certified BMW Mechanics also complete specialty jobs and repairs. BMW of Lincoln is the smartest choice in Lincoln for fast, accommodating and professional BMW Service of all kinds.
If you'd like to make an appointment to have your Z4 sDrive30i serviced, click the link or just give us a call. See you soon!