There is no question that the 2019 BMW M5 is nothing short of spectacular. This sports car has everything that the average driver needs to thrive on the road, which includes an incredible infotainment system and great fuel economy. Still, there is, believe it or not, a more advanced line of the car known as the BMW M5 Competition.
What sets the Competition apart?
Unlike the standard BMW M5, the Competition offers drivers up to 617 horsepower; that 17 more horsepower than the standard M5. There is also the benefit of a wider range for peak torque with revolutions per minute (RPM) extending beyond 5,700 rpm all the way to 5,860 rpm.
The eight-speed transmission on the 2019 BMW M5 Competition is like no other with special tuning just for the racer at heart. Drivers can easily go from 0 to 60 MPH in a whopping three seconds. Imagine taking everyone by storm at the freeway entrance and being virtually untouchable throughout your entire trip.
The M5 Competition package comes standard with six-piston fixed calipers that attach to rotors, which contribute to an even better experience on the road.
Exterior differences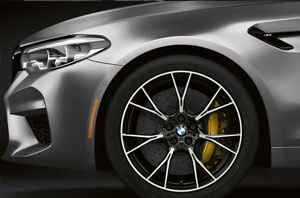 The best way to tell the M5 Competition apart from its standard counterpart is to look for the glossy black accents that garner the attention of the masses. There are also seat belts designed after the brand's signature blue, purple, and red stripe pattern. Owners have the benefit of customized floor mats with the Competition package that tells everyone onboard that the car is special.
You can learn more about the 2019 BMW M5 Competition package when you stop by BMW of Lincoln for a test drive. You can also check out all of the latest makes and models that BMW has to offer while you're here!